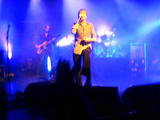 Fantastic Suede gig last night at the Birmingham Academy. Sadly though it's probably the last time we'll be able to see them live as they've recently announced the band members are pursuing solo projects.
Last night however they were on absolutely storming form and Brett had us all eating out of his hand! Such a showman and he genuinely seemed to be enjoying the gig himself (though who's not going to enjoy 5,000 adoring and screaming fans). The tunes were pretty good too! They ended the main set with Trash and The Beautiful Ones rather than saving either for the encore, which itself was rather downbeat, maybe purposefully given the news about the band's future (or lack of). Anyway, without doubt Suede were one of the best British bands of the last decade, were highly influential and were a great live act.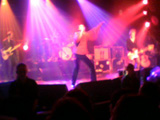 It was Emily's first live gig and so I introduced her to the mosh pit! She had a great time and will always try to be up at the front at future gigs. What's the point of going to see a band live if you're going to stand at the back!
See you in the next life, Suede.