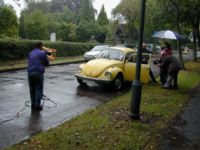 Well, I got my 15 minutes of fame last week. I got a phone call from the BBC asking if they could use my yellow VW Beetle for a programme shoot they had planned for Friday. Seems they called my local VW garage asking for a yellow Beetle and the garage put them on to me. The programme is called 'Doctors', a daytime soap. Never seen nor heard of it!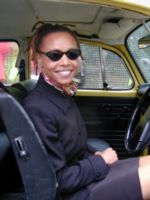 Kim ApplebyAnyway I turned up on the Friday morning and found out exactly what they wanted. The plot was that in the soap a famous pop star was to drive my car. I can't give the plot away as it's not due for broadcast until later in the year however the big surprise was that the pop star was played by none other than real life pop star Kim Appleby, one half of sister duo Mel & Kim. This was a real bonus as I must admit I liked their big hit 'Respectable' and let's face it, they were two gorgeous looking girls!
The shoot was actually over two days. On the Friday Kim was to drive my car and on Monday the car was parked on the character's driveway. There were some shots of the car's interior with Kim's character in the driving seat. At the end of the shoot Kim kindly allowed me to photograph her as a souvenir.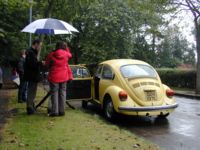 Setting up a shot of my BeetleOver the two days I got a small glimpse of the day to day business of making a TV programme. It was interesting watching all the camera set ups but there was a lot of hanging around and apart from the principle actors and main production people there wasn't a lot of action, no pun intended.
The biggest surprise of the whole affair was being asked to be an extra. I think the assistant director felt sorry for me hanging around for so long so she invited me to play a reporter photographing Kim's pop star character and other characters in the story. So not only will my car feature in this episode but so will I. I doubt I'll give up my day job but it was fun! If you're in the UK on 30th October then tune into BBC1 at 2:10pm to watch Doctors. I'm the talented guy photographing the main stars. Blink and you might miss me. You will hopefully get a better look at the car.
I'm open to film offers or other TV work…